Implantology News
New housing with insert for Overdenture
The new elastomer retentive inserts are a further overdenture attachment type for the ball head abutments.
Compared to the micro inserts already included in the catalogue, the new inserts have an increased length and an increased wall thickness. These features lead to an increased stability of the prosthesis and an increased lifetime of the inserts.
Increased prosthesis stability
Thanks to the increased length, the new inserts rest on the neck of the abutment and prevent tilting movements of the prosthesis.

Increased lifetime
The increased wall thickness guarantees a longer durability of the retention on the abutments
Same vertical dimension
Once attached to the ball head abutment the vertical dimension of the housing with insert is the same as that of the micro housing with insert.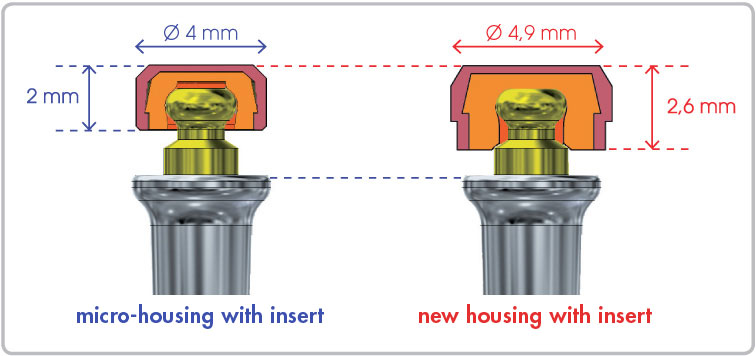 The inserts are contained within specific metal housings: the housings are made of pink anodized titanium for better aesthetics within the removable denture, and feature an undercut, which increases their stability within the prosthesis.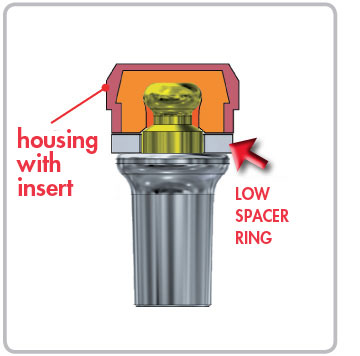 The inserts are compatible with the abutments for O-ring overdenture, which are available while stocks last; therefore they can also be used in conjunction with them for already restored cases.
During the procedure to incorporate the housings with insert into the prosthesis the low spacer ring is used, namely the same used to incorporate the housing with O-ring and the micro housing with O-ring into the prosthesis.
When replacing the insert, remove the worn-out insert and press the new one into the housing by means of the specific instrument Cat. 156-1004-00 (see page 97 of 2015 catalogue).
The inserts are available in the same three different types of rigidity as the micro inserts, identifiable by the following colour code: white (soft insert), orange (medium insert), violet (rigid insert).
123-0004-05


OVERDENTURE HOUSING WITH WHITE SOFT INSERT
Made of medical grade 5 titanium,
outer diameter 4,9 mm, height 2,6 mm.
With pre-mounted white soft insert.
Pack content: 2 overdenture housings, 2 low spacer rings
123-0001-05
REFILL - WHITE SOFT INSERT
Pack of 6
123-0004-06
OVERDENTURE HOUSING WITH ORANGE MEDIUM INSERT
Made of medical grade 5 titanium,
outer diameter 4,9 mm, height 2,6 mm.
With pre-mounted orange medium insert.
Pack content: 2 overdenture housings, 2 low spacer rings
123-0001-06
REFILL - ORANGE SOFT INSERT
Pack of 6
123-0004-07
OVERDENTURE HOUSING WITH VIOLET RIGID INSERT
Made of medical grade 5 titanium,
outer diameter 4,9 mm, height 2,6 mm.
With pre-mounted violet rigid insert.
Pack content: 2 overdenture housings, 2 low spacer rings
123-0001-07
REFILL - VIOLET SOFT INSERT
Pack of 6