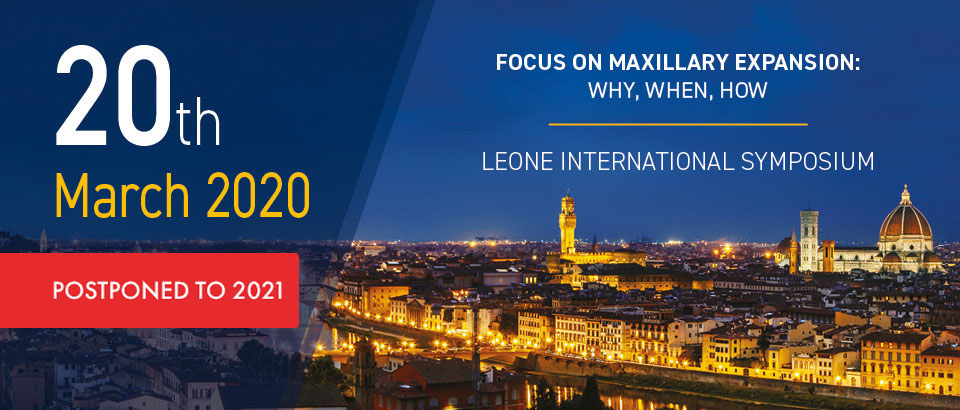 Please note that Leone International Symposium is postponed.
Read more
Introduction
Over the years the upper maxillary expansion obtained a leading role in contemporary orthodontic field as an effective and predictable treatment.
Innovative devices and updated technics offer more solutions and opportunities for the treatment of transversal deficit.
Together with the greater clinical and scientific experts of this theme, we will analyse the state of the art of this treatment.
Symposium program
Myths and realities in maxillary expansion therapy

Dr. Alessandro Ugolini
Professor (Assistant) DDS PhD MS Ortho University of Genoa

Leaf Expander: a very different way to expand maxillae

Prof. Olivier Sorel
Head of the Orthodontic Department in Rennes.
2019 EOS President

The challenge of no compliance expansion was won: the Leaf Self Expander

Dr. Matteo Beretta
DDS, Ms, PHD Pediatric Orthodontist in Casale Monferrato (AL)

Pushing the limits of maxillary expansion by means of palatal anchorage

Dr. Giuseppe Perinetti
DDS, MS, PhD Freelance Orthodontist in Private Practice, Nocciano (PE) Italy

Effective management of transverse problems in the growing patient:
an evidence-based approach

Prof. Lorenzo Franchi
Researcher in early treatment, treatment timing, and dentofacial orthopedics.
University of Florence

Expansion in the early mixed dentition: is out worth the effort?

Prof. James McNamara*
Researcher, clinician, educator, world lecturer. University of Michigan
* 40 minutes video conference remotely lecture
Registration 8:30 | Opening - morning session 9:00 | Lunch 13:00 | Opening - afternoon session 14:00 | Closing 17:00
Event details
The participation to this event is Free
First come, first served
English language
Download the depliant
For information and registration
Leone Export Dept.
Phone: +39.055.3044620
Email: export@leone.it

Venue
Leone SpA
Via Ponte a Quaracchi 50
Sesto Fiorentino (FI) - Italy